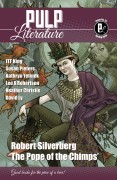 [Disclaimer: Ho ricevuto il libro grazie al programma Early Reviewer di LibraryThing]
Pulp Literature è un progetto che prevede un certo numero di persone che paga una piccola cifra al mese per permettere ai curatori della rivista (trimestrale) di avere un budget iniziale per la pubblicazione di una raccolta di letteratura di vari tipi.
Lo ammetto: in questo numero 22 (AA.VV., Pulp Literature Spring 2019: Issue 22, Pulp Literature 2019, pag. 224, € 4,45, ISBN 9781988865133, link Amazon) ho saltato a piè pari tutte le poesie – non comprendo abbastanza bene l'inglese, e comunque non le leggo nmmeno in italiano… Tra i racconti, "The Pope of the Chimps" di Robert Silverberg è divertente (e ben scritto, ma questo lo si poteva dare per certo); "The Extra" di Mel Anastasious è troppo lento per me, ho seguito la storia ma non ho ben capito dove volesse arrivare; "The Nix's Wife" di Kathryn Yelinek è un racconto fantasy standard; "Spin Doctor" di Susan Pieters non mi ha detto proprio nulla, mentre "Snapshots" di Leo X Robinson è di gran lunga il miglior racconto presente; non ho per nulla capito le storie di "Late Night Fun Facts on the No. 65" di JTF King e "The Raven" di Cheryl Wollner; "The Endless Drop" di Mathew Nielsen e Minna Hakkola è un racconto a fumetti con un'idea interessante che però non è portata avanti; "Allaigna's Song" soffre infine del fatto di essere la seconda parte di un racconto in tre episodi, il che significa che non mi è stato facile capire le sottigliezze del testo. Insomma, ci sono alcune gemme, ma il livello è molto disuguale.